Un nouveau mercredi, un nouveau sketch Stamping & Blogging ! Je n'ai pas pu résister à l'envie de scrapper avec mes nouveaux jouets du catalogue automne/hiver ! Je sais que ma création n'est pas vraiment de saison (quoique, avec le temps qu'il fait dehors on se demande…) mais j'avais envie de vous montrer ce que vous pourrez obtenir à partir du 28 août ! Noel, étant ma période préférée de l'année, ce petit ours m'a fait de l'œil !
New wednesday, new Stamping & Blogging's sketch !
I can't resist to play with my new favorite products from the Winter catalog ! I know it's not really the good time to show you this (even if the weather feel us like in November…) but I would like to show you what you could have on the 28th August ! Christmas is really my favorite season and I completly fall in love with this little white bear !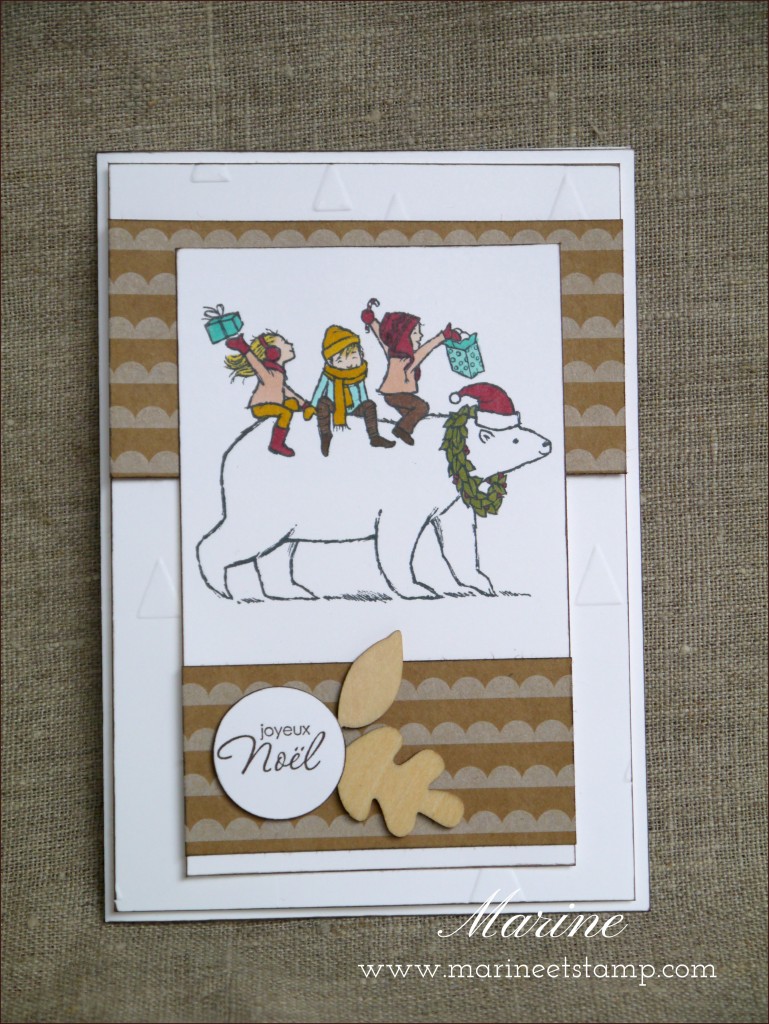 Je ne peux pas encore vous montrer la liste complète des produits utilisés car ce ne sont quasiment que des nouveaux produits ! Revenez faire un tour ici le 28 août et vous verrez !
I can't give you the complete used products list because they are almost all news ! Make sure to come back here on the 28th August to see them !
Aujourd'hui nous avons un nouveau membre dans la Design Team : Patrice Halliday-Larsen de Nouvelle-Zélande ! Olala comme son pays fait rêver ! Bienvenue Patrice !
Today we have a new member team : Patrice Halliday-Larsen from New Zealand ! Her country makes me dreaming ! Welcome Patrice !
Sandi MacIver – USA
Amy Koenders – USA
Lee Conrey – USA
Claire Daly – Australia
Shelagh Freemantle – Canada
Patrice Halliday-Larsen – New Zealand
Michelle Last – UK
Caroline van der Straaten – Netherlands
Kerstin Kreis – Germany
Je pars en vacances demain soir mais je vous ai préparé quelques petites choses pendant mon absence !
I'm in holidays tomorrow evening but I prepare some things for you when I'm out !